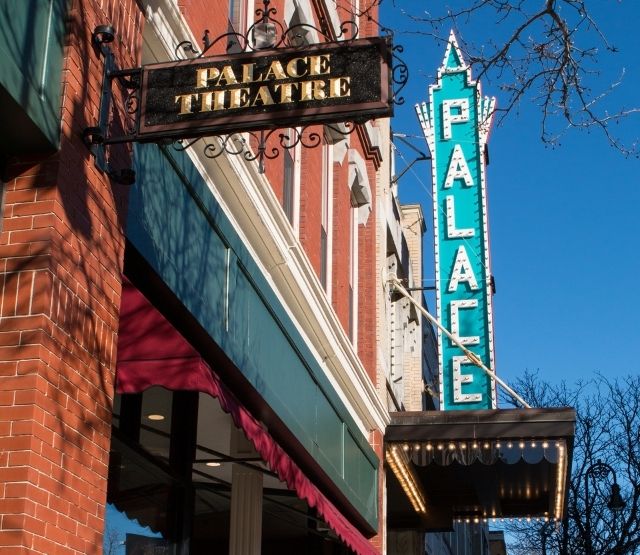 The Palace Theatre is a non-profit performing arts center that hosts its own professional company, youth, and teen programs as well as presenting acts. We are committed to achieving our mission through preserving the historic facilities of the theatre, responding creatively to the cultural and entertainment needs of the community, and governing in a fiscally responsible and strategic manner.
Our beautiful 834-seat theatre is the only one of its kind in this area and the staff who work here are committed to preserving it. All administrative offices are located adjacent to the theatre, including two large dance studios used by all performers of The Palace Theatre.
The mission of the Palace Theatre Trust is to enrich the region's cultural life and serve as a community resource through its stewardship of the historic Palace Theatre. It does so by providing a broad range of live, high quality, professional and community performances, as well as educational opportunities for performers and audiences of all ages.
Community support of our beloved theatres is so important and appreciated. Through the generosity of our community, the Theatres have remained a staple in our community for more than 100 years.
We rely on our community network to help us fulfill our mission of keeping the arts alive.
Board of Trustees
Esteemed leaders lend their expertise to advance our mission and make performing arts accessible to all.
Annual Report
We celebrate accomplishments made possible thanks to our dedicated and generous constituents.  View now.
Palace Staff
Employees are enthusiastic individuals who value theatre traditions and innovation in the performing arts.
Advisory Board
Dedicated volunteers who value the performing arts' role in building a more vibrant Manchester community.
Palace Ushers
Palaces' volunteer ushers pride themselves in providing friendly, professional customer service to all patrons.
WORK AT THE PALACE
Bring your creative spirit to the Palace community!  Our team values hard working professionals with a passion for the performing arts and a desire to make a positive impact.