Spotlight Room features a full bar, grand piano, hardwood flooring, modern lighting, newly remodeled bathrooms, a unique ceiling and glass windows for streams of natural light.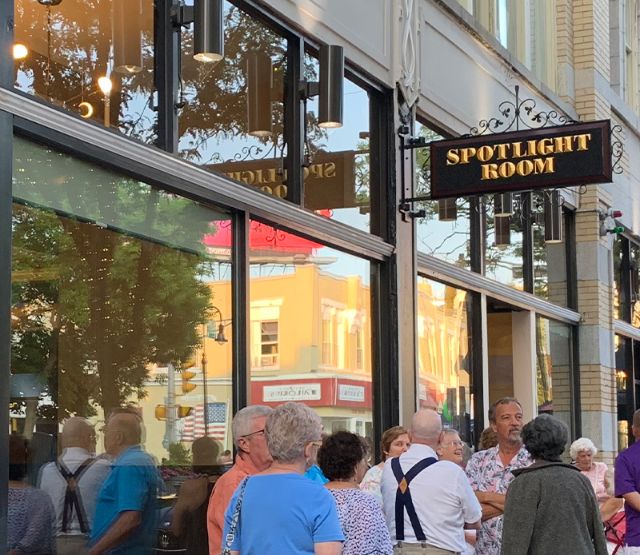 When we noticed a bar next to The Palace Theatre move to another location in Manchester, we saw an opportunity to buy that space, renovate it and make it into an extraordinary event space for everyone and anyone to rent out. These events include anything from birthday parties to corporate parties. After extensive remodeling and renovation, Spotlight Room at the Palace was completed in the Fall of 2018.
The event venue features an abundance of vintage and modern styles. From original tin ceilings to giant, street-front windows, this event venue is everything you are looking for. The open concept leaves you room to move around, making the setup of any event completely flexible. Dimmable lighting and multiple colored uplighting give your event any type of ambiance you desire.
Each event is highly coordinated and we are willing to accommodate as many of your needs as we can. Pricing for Spotlight Room is a set fee, depending on the type of event. The space is able to accommodate 100 people. Time is typically based on a four-hour period, but exceptions may be made depending on the event.
The Spotlight Room Events
HOST AN EVENT
Whether it is your next party, luncheon, wedding, baby shower, or corporate event, this newly renovated and remodeled venue has you covered!
This newly renovated space right next to the Palace Theatre, can host a plethora of events including but not limited to: parties, meetings, luncheons, breakfasts, casual or formal dinners, weddings, bridal and baby showers, social events, wine tastings, team-building, pre-show parties and conferences.
Corporate Events
Whether you are hosting a small meeting, luncheon, professional dinner, large corporate event, or hosting a conference, the Spotlight Room is a great location for any professional business. With a maximum capacity of 100 people, a full bar, music, and lighting, we can provide you with the best services we offer.
Hotels such as SpringHill Suites by Marriott, La Quinta Inn, Hilton Garden Inn, Holiday Inn Express and Suites, Courtyard Marriott, and Fairfield Inn are all within 15 minutes from our location. Within one block, you can find exquisite cuisine, ample parking, and stellar nightlife.
Manchester Airport is located 15 minutes away and Boston Logan International Airport is an hour south. Car rental options are also available within 2 miles. Everything you need is right within reach!
Rehearsal Dinners / Wedding Showers
The life-changing day where your friends and family come together and watch you and your loved one start your journey together! On this exciting day, you want everything to go right. If you are interested in a small, intimate wedding with only your closest friends and family, then look no further than the Spotlight Room at the Palace.
Our team will help you organize the wedding of your dreams. Whether it be flower arrangements, music, lighting, decorations, romantic atmosphere or designated seating, we can help make your wedding memorable.
After touring the venue and sharing your details, we will work with you to ensure that everything will go as planned. Any style wedding with up to 100 guests may be accommodated. No detail is too big or too small to make the wedding of your dreams come true!
Parties
Have a great party idea and nowhere to host it? Spotlight Room at the Palace is the place to be. It's more than just an event space; it's a place for fun, laughs, music, drinking, dining, and most importantly, has a team of professionals who want to make your party special.
Business parties, social parties, annual gatherings, Christmas parties, galas, New Year's parties – anything your heart desires. Whether it be big or small, any party, any style, any theme – there's always something to celebrate!
Want to enjoy a show? The Palace Theatre, located right next door, features some of the best Broadway musicals, concerts and live comedy all year round! We offer pre-show parties, where you and your guests can have a few drinks, eat some fantastic food catered from local restaurants, and then enjoy some of The Palace Theatre's exquisite live entertainment!
Baby Showers
Some major life changes are about to happen in your life. We want to celebrate this journey with you as you endeavor on this adventure of a lifetime. Whether you are having a baby or getting married, there is no better way to celebrate than having a party!
There are music options, lighting, and even the little things, such as table designs, party favors, and small details that will really make The Spotlight Room perfect! We offer everything you could possibly need to celebrate this new chapter in your life with your family and friends.
Wine / Beer Tastings
Wine tastings are events that everyone enjoys! You dress to the nine's or casually, meet up with friends, family, or colleagues, walk around, and indulge in the fine tastes of imported and local wine!
We help set up different wine stations, so each attendee may experience the simplicity or the complexity of each type of wine such as Chardonnay, Pinot Noir, Sauvignon Blanc, Riesling, Cabernet, Merlot, and Zinfandel.
Interested in a dinner? Tables, linens, and folding chairs are available for your convenience.
There are plenty of parking options that make spending a night at the theatre fun and easy.
CITIZENS BANK PARKING LOT
The Citizens Bank parking lot next to the Palace is now privately owned and managed, and charges fees that are not associated with the Palace Theatre.
Note: Only credit cards will be accepted as a mode of payment
ON STREET PARKING
On-street parking is typically $0.75 an hour. Be aware that some on-street parking meters have a two-hour limit. Read meters for specific details and applicable hours.
Note: On-street parking is free after 8PM on Fridays and all day on weekends and Holidays.
VICTORY PARKING GARAGE
The Victory Parking Garage is city-owned.
Procedure for parking meters:
1. Find available space and remember your space number
2. Walk to street level corner stairwell or front of office location and find pay by space meter
3. Follow instructions on meter (coins and credit only, no dollar bills) @0.75 hour / max of $6.00
4. Please remember to pay before leaving garage.
Note: Parking is free after 8PM on Fridays, and on weekends and Holidays.
HARTNETT PARKING LOT
This is a city-owned lot. The rate is $0.75 per hour Monday thru Friday until 8PM. The metered parking is located around the perimeter of the lot.
Note: Parking is free after 8 PM on weekdays and all day on weekends. Only at that time you may park anywhere in the parking lot.