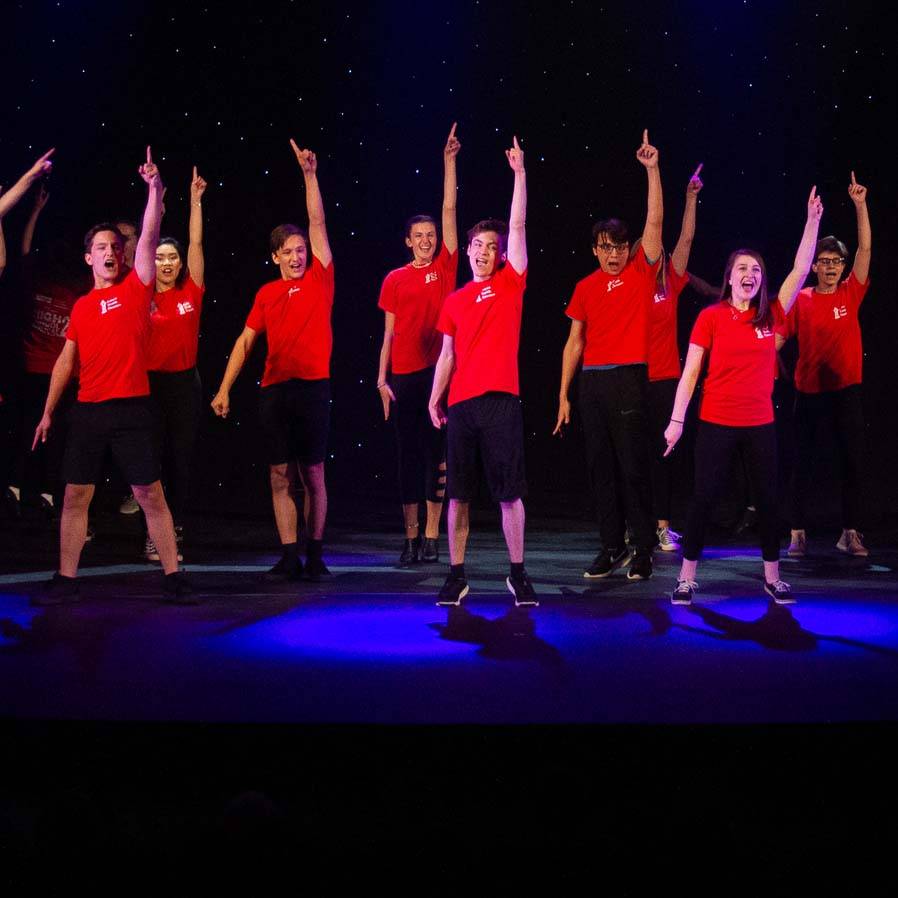 The success of the Palace Theatre is attributed to our amazing network of board members, staff, volunteers, and members of the community who commit their time and resources to the performing arts.
Our esteemed leaders lend their expertise to advance our mission and make the performing arts accessible to all.
The Palace Theatre employees are enthusiastic, motivated, collaborative individuals who value the traditions of the theatre and embrace what is new and innovative in the performing arts.
Dedicated volunteers who value the performing arts' role in building a more vibrant community.
Palaces' volunteer ushers pride themselves in providing friendly, professional customer service to all patrons.
Chair of the Board
J. MICHAEL PERRELLA, SR.
Sr. Commercial Loan Officer
Bellwether Community Credit Union
Vice Chair
Atty. David Eby
Chair, Litigation Department
Devine Millimet
Treasurer
MARK LAPRADE
Principal/CPA
BerryDunn
Secretary
DOUG BLAIS, PH.D.
Director, Graduate Programs
School of Business at SNHU
Robert Baines
Former Mayor
City of Manchester
Ernesto Burden
Publisher
Yankee Publishing, Inc.,
NH Group
Joe Carelli
President NH & VT
Citizens Bank
Ron Covey, Jr.
President & CEO – Retired
St. Mary's Bank
Sarah B. Demers
Vice President – Retired
Merrill Lynch
Sylvio L. Dupuis O.D.
Special Assistant to the President
MCPHS
Donna Gamache
Director of Governmental Affairs
Eversource Energy
Joe Graham
President
iHeart Media Group
Beth Houlis
Director, Employee Communications
Comcast
John MacNeil
Founder
Moody Street Pictures
Camille Madden
President
HarborOne Mortgage
Roland A. Martin II
President
Cornerstone PDC, LLC
Sharron McCarthy
CEO
Girls Inc.
Jason McKinney
SVP, Business Consultant
John Hancock Investments
Katie McQuaid
Account Executive
EVR Advertising
Dr. Holly Mintz
CMO Ambulatory Services
Elliot Hospital
Lucia A. Merritt
CPA – Retired
Atty. Jennifer Parent
Dir. & Chair of Litigation
McLane Middleton Professional Assoc.
Peter Ramsey
President & CEO
Palace Theatre
Mike Reed
President
Stebbins Commercial Properties
Michael Skelton
President & CEO
Business & Industry Association of New Hampshire
Emeritus:
Howard Brodsky
CEO
CCA Global Partners
Judith Jolton
Eti-Kid
Atty. Maria Law
Rath Young Pignatelli
William E. Stevens P.E.
President
Harvey Construction Corp.
PETER E. RAMSEY
PRESIDENT / CEO
Carl Rajotte
ARTISTIC DIRECTOR
David Rousseau
DIRECTOR OF SALES & MARKETING
Paul Ramsey
CHIEF FINANCIAL OFFICER
Megan Quinn
DIRECTOR OF YOUTH THEATRE
Ray Garon
BOOKING DIRECTOR
Shannon Sullivan
DIRECTOR, CORPORATE AND COMMUNITY PARTNERSHIPS
Warren O'Reilly
BOOKING / ASST. TO THE PRESIDENT
Vasiliki Canotas
GRANT WRITER
Katie Lovell
BOX OFFICE MANAGER
Cherie Prior
ASST. BOX OFFICE MANAGER
Janey Goldberg
BAR MANAGER / GROUP SALES COORDINATOR
Colleen Shields
DEVELOPMENT ASSISTANT
Sarah Souter
DEVELOPMENT COORDINATOR
Rachel Stone
GRAPHIC DESIGNER
Megan Koerber
ASST. GRAPHIC DESIGNER
Jacob Stanley Butler
VIDEO DESIGNER
Liam Spain
BOOKING ASSITANT
Hunter Ulbin
YOUTH THEATRE ARTISTIC ASSOCIATE
Shane Hurst
ARTISTIC ASSISTANT
Sebastian Goldberg
ASSISTANT TO THE ARTISTIC DIRECTOR
Megan Alves
YOUTH RESIDENT ARTIST
Kamenka Ocanovic
FACILITIES
Mary Philippy
USHER COORDINATOR
Jamie Quinn
TECHNICAL DIRECTOR / SOUND ENGINEER
Terri Brunette
BOOKKEEPER / ACCOUNTANT
Leo Capillo
FACILITIES MANAGER
Janet Ackerman – Bedford, NH
Mary Ann Aldrich – Concord, NH
Voula Annas – Manchester, NH
Joshua Auger – Manchester, NH
Al & Diane Baines – Goffstown, NH
Adele Baker – Manchester, NH
Denise Bauer – Londonderry, NH
Rebecca Beauchemin – Bedford, NH
Jane Beaulieu – Manchester, NH
Barbara Blais – Manchester, NH
Lolli Bonte – Manchester, NH
Bryan Bouchard – Manchester, NH
Peg Bourque – Manchester, NH
Alora Bowers – Manchester, NH
Stacey Breton – Bedford, NH
Ken and Cherri Brewer – Manchester, NH
Donna Briggs – Manchester, NH
Jennifer Briggs – Hampton, NH
Joan Brodsky – Manchester, NH
Sharon Brommer – Londonderry, NH
Linda Brown – Manchester, NH
George Bruno – Manchester, NH
Mark & Karen Burkush – Manchester, NH
Stanley Campbell – Manchester, NH
Ed and Michele Cantlin – Bedford, NH
Joan Cardillo – Bedford, NH
Christine Carignan – Goffstown, NH
Cheryl Carten – Manchester, NH
Thomas Carter – Derry, NH
Rudy Cartier – Candia, NH
Marilyn Cavanaugh – Auburn, NH
Joceline Champagne – Manchester, NH
Hsiu Chang – Bedford, NH
Marissa Chase – Manchester, NH
Mary Alice Chatis – Manchester, NH
Jane Truncellito-Clayton – Hampton, NH
Mayor Joyce Craig – Manchester, NH
Atty. Bob Dastin – Manchester, NH
Nichole Davis – Manchester, NH
Michael DeBlasi – Manchester, NH
Mary Lynn Edwards – Manchester, NH
Lindy Evans – Goffstown, NH
Charlotte Ferland – Manchester, NH
Laura Gamache – Manchester, NH
Sandy Geisler – Londonderry, NH
Lauren Getts – Manchester, NH
Carol Glejzer – Manchester, NH
Carin Glick – Manchester, NH
Richard Gustafson – Bedford, NH
Olga Guza – Salem, NH
Anne-Marie Hafeman – Manchester, NH
Ronisa Hannon – Manchester, NH
Anne & Dick Hatin – Hooksett, NH
Alan Heacock – Bedford, NH
Joseph P. Heleniak – Manchester, NH
Dennis Hill – Manchester, NH
Carolyn Hollman – Manchester, NH
Trinnie Houghton, JD – Bow, NH 
Deanna Hoying – Manchester, NH
Pauline Ikawa – Manchester, NH
Judith Jolton – Manchester, NH
Elizabeth Jones – Manchester, NH
Steve and Karen Jordan – Bedford, NH
Natalie Jutras – Manchester, NH
Patricia Kalik – Manchester, NH
Chrissy Kantor – Manchester, NH
Alan Kaplan – Manchester, NH
James Keaveney – Bedford, NH
Matthew Kfoury – Manchester, NH
Ruth Kleinfeld – Manchester, NH
Sasha Kuftinec – Bedford, NH
Dallas Lagerquist – Manchester, NH
Kitty LaRochelle – Manchester, NH 
Lisa Larrabee – Litchfield, NH
Daniel Leach, CFP – Manchester, NH
Bryan Lee – Bedford, NH
Stephanie J. Lee – Bedford, NH
Brent Lemire – Litchfield, NH
Lisa Lemire – Litchfield, NH
Alfredo Linder – Manchester, NH
William Linehan – Bedford, NH
Cheryl Lucas – Nashua, NH
Kate Luczko – Manchester, NH
Hon. John Lynch & Dr. Susan Lynch –
Bow, NH
Charry MacDonald – Manchester, NH
David MacGregor – Goffstown, NH
Peter Madden – Manchester, NH
Mike Magoon – Northwood, NH
Harry Malone & Priscilla Gould – Manchester, NH
Debbie Makris – Pembroke, NH
Paul Mansback – Bedford, NH
Dan McKenney – Manchester, NH
Dan McMahon – Manchester, NH
Brendan McQuaid – Manchester, NH
Marvin and Sandra Meinz – Bedford, NH
Richard and Martha Moloy – Pittsfield, NH
Maria Mongan – Manchester, NH
Robert P. Mongan, Principal –
Manchester, NH
John Moran – Manchester, NH
Norri Oberlander – Londonderry, NH
Dan O'Neil – Manchester, NH
Karyn O'Neil – Manchester, NH
Mark & Kathie Orshak – Manchester, NH
Russ Ouellette – Manchester, NH
Gabriel Paci – Manchester, NH
Toni Pappas – Manchester, NH
Ron and Laura Pingel – Bedford, NH
Paul Pouliot – Bedford, NH
E.J. Powers – Bedford, NH
Carol Pressman – Manchester, NH
John Prochilo – Andover, NH
Cathy Przekaza – Goffstown, NH
Matthew R. Real – Bedford, NH
Martha Smist-Rice – Manchester, NH
Peter Richard – Manchester, NH
Nancy Richardson – Conway, SC
Leslie Rifkin – Bedford, NH
Michael Rivard – Manchester, NH
Connie Roy-Czyzowski – Manchester, NH
Stephanie Royter – Goffstown, NH
Stephanie Savard – Derry, NH
Kerry Sweeney – Goffstown, NH
Sandra Seney, MBA – Bow, NH
Sarah Marjorie Shakour – Derry, NH
Jeff Shaw – Concord, NH
Bill & Linda Sirak – Manchester, NH
Bill Siroty – Manchester, NH
Pamela Smart – Bedford, NH
Ellen Soucy – Bedford, NH
Keith Spano – Manchester, NH
Larry & Eleanor Spencer – Plymouth, NH
Scott Spradling – Manchester, NH
Norm & Paula St. Amand – Bedford, NH
Bill Stelling – Manchester, NH
Jayna Stevens – Hooksett, NH
Corey Stevens – Bedford, NH
Cindy Stewart – Manchester, NH
Deb Stone – Bow, NH
Craig St. Pierre – Manchester, NH 
Kurt W. Strandson – Manchester, NH
Joni Taube – Bedford, NH
Jeanine Tousignant – Manchester, NH
Jason Tremblay – Manchester, NH
Kathryn Trengali – Manchester, NH
Marc & Denise Van Zanten – Bedford, NH
Kim Wall – Bedford, NH
Seth P. Wall – Bedford, NH
Tony Wallis – Manchester, NH
Carole Whitcher – Goffstown, NH
Mark Whitney – Bedford, NH
Christine Williams – Bedford, NH
David and Dorothy Winegar – Manchester, NH
Ernie Yerrington – Bedford, NH
Lynn Zimmerman – Bedford, NH
GREETER MANAGERS
Dorris & Jesse Mann
IN FOND MEMORY OF
John Cuchetti
Jeannette Walters
Nick Green
Kathy Zimmermann
Cecile Mercier
Sam McDonald
Marjorie Rheaume
Jacqueline (Jackie) Stewart
Doren Wales
USHER MANAGERS
Joanne Daigle
John & Pauline Hamann – Emeritus
Marlene Latulippe – Emeritus
Priscilla Letendre
Stephen McCoubry
Patricia Monbouquette – Emeritus
Maureen Papuga
Peter Perich
Mary Philippy
Arlene Robbins
Joe Sarna
Jean Stefanik – Emeritus
Arline Trudel – Emeritus
Augusta Vaillancourt – Emeritus
Vivian Villemure – Emeritus
Valerie Zaleski
Diane Walsh
COMPANY STORE
Myrna Ambrose
Carmen Nadeau
Stephanie Caron
Stephanie Moll
VOLUNTEER OF THE YEAR
2014 – Stephen McCoubry
2015 – Leigh Polish
2016 – Ed Donnelly
2017 – Karen & Steven Jordan
2018 – Valerie Bronstein
Diane Atherton
Carmen Ayala
Sue Bafageeh
Tami Baker
Fran Baldowski
Diane Balukonis
Suzanne Beauchesne
Irene Bechard
Carol Bednarowski
Deb Beetz
Helene Belanger
Brittany Berg
Christina Berg
Joe & Connie Biedrzycki
Sue Bienvenue
Judith Blaney
Joanne & Tom Bonito
Steven Botana-Gumbs
Janet Boutin
Annick Bouvier-Selwyn
Noella Breault
Shelley Brennan
Lorriane Briand
Beth Brisson
Valerie Bronstein
Linda Brown
Nancy Brustin
Patrice Burbine
Karen Casey
Sandy Cassidy
Celeste Catano
Anne Cavuto
Marcus Chalmers
Kim Champoux
Loyce Chassis
Sonya Clay
Ginny Clayton
Margit Colburn
Mary Ellen Compagna
Diane Converse
Tina Cook
Mary Ann Cooney
Debbie Cote
Yvonne Cote
Catherine Cuchetti
Natalie Cuchetti
Laura Czerw
Pat Davenport
Linda DeOrio
Patricia DiMartile
Phyllis Dina
Elisabeth Dolan
Ed Donnelly
Wendy Ducharme
Gail Duckless
Cynthia Duffina
Wendy Dumont
Sheila Dunbar
Linda Duncan
Andrew Dupras
Joan Durocher
Linda Dwyer
Lois Dziergowski
Diane Faucher
Joan Field
Ken Fitzpatrick
Linda Forlizzi
Donna Fowler
Joyce Fowler
Lea Francoeur
Debbie Frederick
Amy Friedman
Kathy & Tony Gallo
Nellie Garneau
Barbara Garry
Betsy Gaston
Arthur Genest
Anne Gilman
Jennifer Gingras
Kristen Gingras
Marsha Glance
Micheline Goodno
Shelly Grady
Darlene Graham
Pat Grossmith
Mary Guerino
Margaret Haddad
Maureen Halligan
Jan Hamel
Phyllis Hanel
Ellie Hanlon
Renee Harrington
Anna Hartwick
Anne & Richard Hatin
Carol Hauser
Sandy Hebert
Robin Heider
Geoff & Ginger Hollis
Janet Hunkins
Bob Hutter
Pat Jansen
Susan Jodoin
Meriba & Alyssa Johnson
Wayne Jope
Karen & Steve Jordan
Cecile Juneau
Bill & Dottie Kelley
Elaine Kennedy
Charlotte Kersbergen
Donna Kirouac
Sarah Korins
Donna Kula
Bob LaBelle
Mary Ellen LaBonte
Pauline Lambert
MaryJo Lepage
Claudette Laroche
Susan Lavache
Cheryl Lavoie
Joanne Leach
Joelle Lee
Terri Lee
Sarah Lefebvre
Janet Legacy
Lisa Lemire
Charry MacDonald
Pam Magrath
Maureen Manning
Susan Mansor
Joan Marcoux
Susan Martin
Kathi Martinage
Linda Masse
Karen McAdam
Joanna McCarthy
Donna McDowell
Jean McGiffin
Joe McMahon
Tina Melanson
Karen Meros
Cindy Merrill
Sue Meuse
Joan Miller
Marilyn Mills
Barbara Milne
Paula Moore
Bonnie & Jim Morgan
Carolyn & Len Morrill
Bob & Irene Mullen
Maryanne Murach
Karen Neary
Liliana Neumann
Claire Nuenoom
Joan O'Brien
Judy O'Neil
Jean Oberlander
Gina Olore
John Oparowski
Mark Orshak
Cheryl Outlaw
Jane Pakula
Mary Panarese
Barbara Paquette
Ann Paris
Martha Perich
Dee Perrotta
Denise Philbrick
Nancy Philbrick
Fran Pichette
Judy Pilotte
Mary Plante
Leigh Polish
Natalie Polish
James Pottle
Karen Pratt
Carol Pressman
Sharon Preston
Julie Ramsey
Kristina Rentschler
Kathie Rice Orshak
Martha Rice
Elna Richardson
Mary Roberge
Jeannine Rousseau
Mariette Roux
Dianne St.Laurent
Diane Sanchioni
Cindy Sarvai
Nora Savastano
Mark Savoie
Doris Scarpetti
Sheila Semanek
Judy Siemonsma
Rachael Silva
Cheryl Smith
Tiffany Smith
Sheila Smith
Andy & Tanya Soha
John Soha
Eileen Somers
Donna Sonberg
Joni Spelas
Barbara Spuzzillo
Debi Suanet
Judy Temple
Pat Theodore
Annette Thomas
Linda Thomas
Ann Thompson
Bill & Pat Tollenger
Martha Tomanelli
Jim Tondeau
Karen Trickett
Jeanie Vacco
Helen Veilleux
Polly Veros
Noel Villiard
Elizabeth Vinson
Kendra Viviers
Lisa & Gregg Volonte
Joe Wade
Paula Wakefield
Ben Wales
Debbe Walter
Jane Washburn
Don & Priscilla Watts
Roz Weizer
Celeste & Gary Wright
Deb Young
Jan Zambrello
Brenda Zelonis