Our versatile 300-seat venue for musicians, theatre, comedy, community events, and more.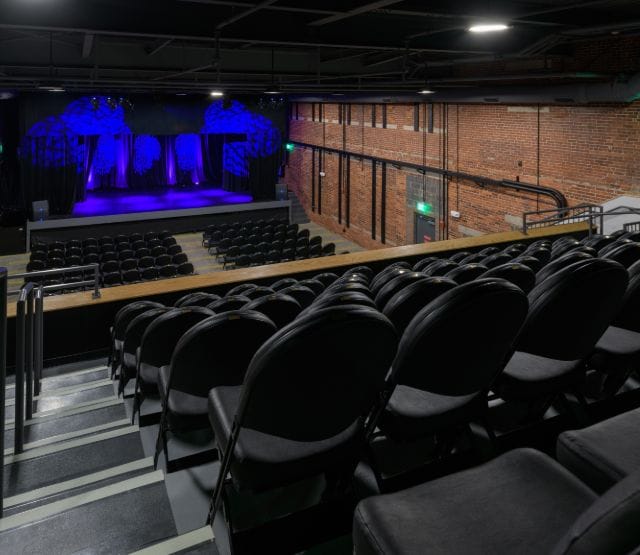 Originally a printing press, the Rex served as a movie theatre from the 1940s to 1980s. 1989 saw the end of the Rex's life as a movie house. The property then changed hands several times, functioning as a series of nightclubs. In 2016, the building was purchased by the Manchester Development Corporation (MDC). The Palace Theatre Trust entered into a private-public partnership with MDC in October 2018 with the shared goal of reviving the Rex and opening the space as a theatre once again.
On October 30, 2019 we opened the doors of the Rex Theatre, a state-of-the-art, 300-seat performance venue. In the four months the Rex was open before temporarily shutting down due to COVID-19, we began to see the possibilities of this new cultural resource. This venue has added immensely to our existing performance capabilities. We look forward to experiencing the growth of the Palace Theatre Trust's newest addition.
FIND AN EVENT AT THE REX
Check out the variety of events happening at the Rex, including live music, our Friday Night Comedy Series, and more!
The Best Seat in the House
There are plenty of parking options that make spending a night at the theatre fun and easy.
CITIZENS BANK PARKING LOT
The Citizens Bank parking lot next to the Palace is now privately owned and managed, and charges fees that are not associated with the Palace Theatre.
Note: Only credit cards will be accepted as a mode of payment
ON STREET PARKING
On-street parking is typically $0.75 an hour. Be aware that some on-street parking meters have a two-hour limit. Read meters for specific details and applicable hours.
Note: On-street parking is free after 8PM on Fridays and all day on weekends and Holidays.
VICTORY PARKING GARAGE
The Victory Parking Garage is city-owned.
Procedure for parking meters:
1. Find available space and remember your space number
2. Walk to street level corner stairwell or front of office location and find pay by space meter
3. Follow instructions on meter (coins and credit only, no dollar bills) @0.75 hour / max of $6.00
4. Please remember to pay before leaving garage.
Note: Parking is free after 8PM on Fridays, and on weekends and Holidays.
HARTNETT PARKING LOT
This is a city-owned lot. The rate is $0.75 per hour Monday thru Friday until 8PM. The metered parking is located around the perimeter of the lot.
Note: Parking is free after 8 PM on weekdays and all day on weekends. Only at that time you may park anywhere in the parking lot.