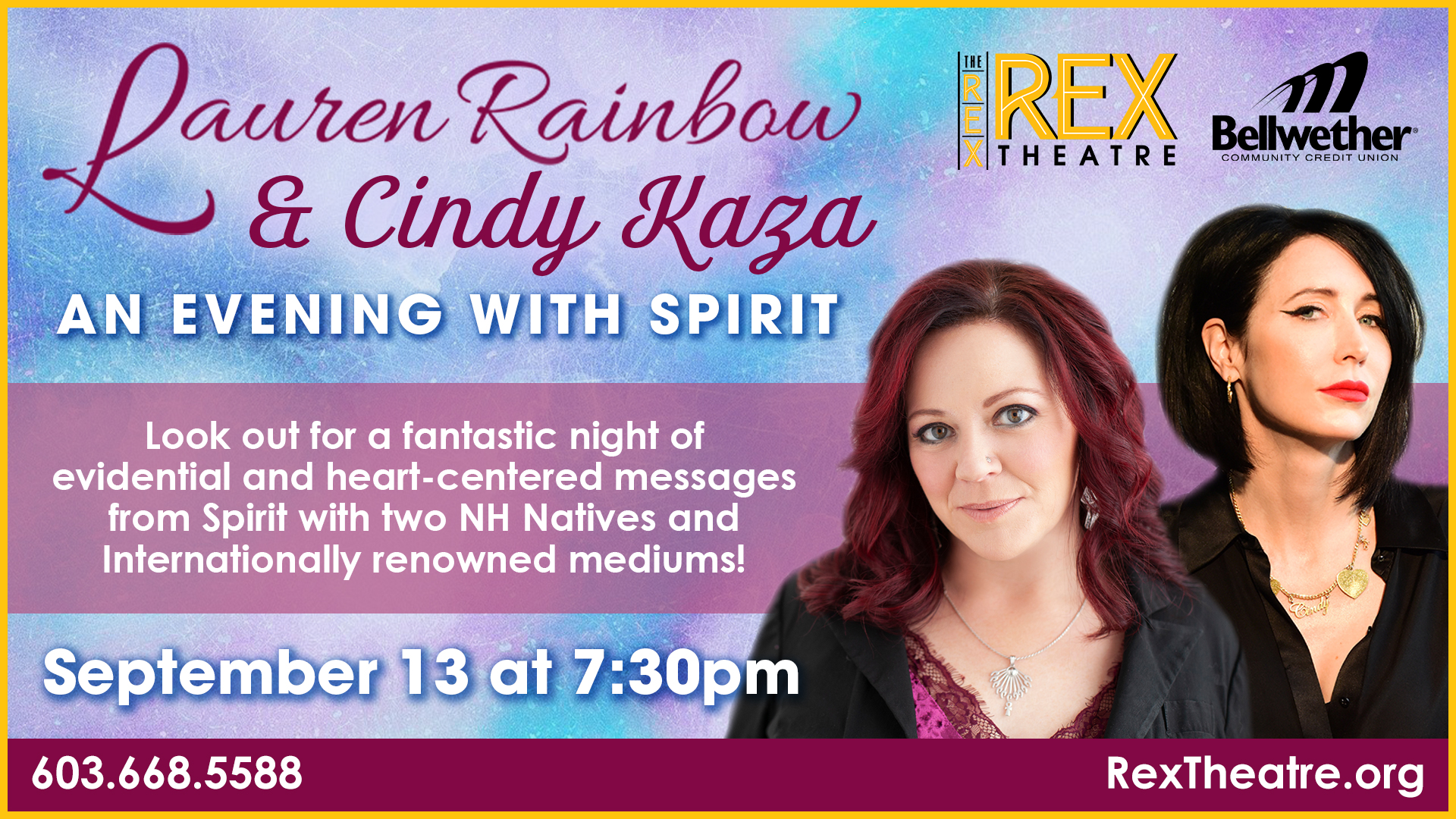 Lauren Rainbow & Cindy Kaza: An Evening with Spirit
Look out for a fantastic night of evidential and heart-centered messages from Spirit with two NH Natives and Internationally renowned mediums, Cindy Kaza and Lauren Rainbow!
Cindy Kaza has traveled the world sharing evidential messages from Spirit. She has appeared on various shows on the Travel Channel, including "Ghosts of Devil's Perch", "The Holzer Files" and the upcoming season of "The Dead Files"
Lauren Rainbow has been traveling the world as an evidential medium sharing messages from Spirit and as a travel guide to sacred sites, including Egypt, India, Peru, and more!
This Dynamic Duo is excited to share their unique styles of mediumship with some audience members!
Cindy Kaza is a psychic medium who had her first memorable encounter with a spirit when she was just 10 years old. She dismissed this chilling experience as just a dream until her early 20s when she realized she continually had psychically spiritual experiences. Since this "awakening," Kaza searched for the truth about her gifts and tested the limits of her multifaceted abilities.
Kaza has trained at England's renowned Arthur Findlay School of Intuitive Sciences and now travels across America, providing people with evidence and messages from the other side. She is best known for her work on Travel Channel's Ghosts of Devil's Perch and The Holzer Files. In addition, she has made guest appearances on several shows on Discovery Warner, including Fright Club, Portals to Hell, Lost in the Wild, Conjuring Kesha, Scream: The True Story, Ed Gein: The Real Psycho, and Ghost Brothers.
Lauren Rainbow is a happy medium, spiritual teacher, and sacred journeyer dedicated to Spirit, Healing, and Love; her work with Spirit has brought her worldwide. Lauren is the co-author of the best-selling "Mediumship Training Deck," published with Hay House, and she has over 20 years of service to Spirit!
As a Spiritual Teacher, she has empowered many to develop their intuitive gifts and has been featured at Omega Institute, Kripalu Yoga, and Lily Dale. She also brings people to sacred sites like Egypt, Mexico, Peru, and India for life-empowerment journeys.